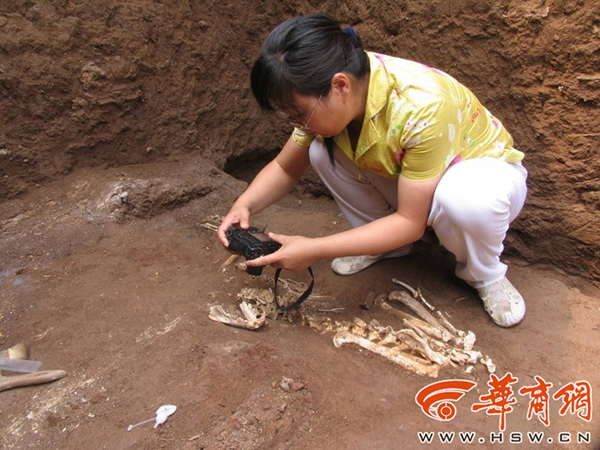 A new species of gibbon, long-extinct, has been discovered in a 2,200 year-old tomb in Xi'an, western China's Shaanxi province, a study co-conducted by Chinese and UK scientists shows.
The discovery was published in Science magazine on June 22. According to the publication, the tomb belonged to a Chinese noblewoman who was the grandmother of China's first emperor Qin Shi Huang, who famously united the independent states of what is now central China in 221 B.C.
Zhang Tian'en, the head of the archaeological team that participated in the excavation, said the unearthing and excavation lasted from 2004 to 2008. He added that apart from relics, substantial animal skeletons were also found.
Researcher Hu Songmei, from the Shaanxi Provincial Institute of Archaeology (SPIA), believes that the animals were caged before they were buried, and a bear was even chained. She said these animals were probably kept as pets when they were alive.
"The discovery of the skull, lower jawbone and arm bones of a primate excited me, since primate skeletons are hard to find," said primate expert Zhao Lingxia from the Institute of Vertebrate Paleontology and Paleoanthropology (IVPP), Chinese Academy of Sciences (CAS).
She confirmed the skeletons were from a gibbon but was not able to identify the specific genus.
Thanks to the collaboration between SPIA and UK scientists in 2012, the real identity of the gibbon has since been exposed. After 3D modelling and comparing the skeleton to hundreds of modern gibbons over a number of years, researchers finally confirmed that the gibbon was a completely new species.
The species was named Junzi imperialis. Hu said the confirmation of this new species is only the beginning, and scientists will conduct further DNA research to identify its relation to modern gibbons.