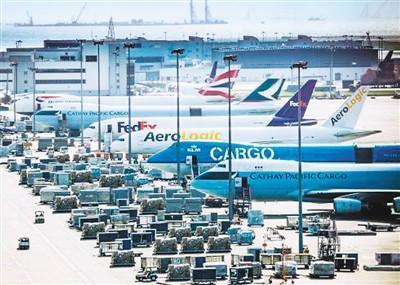 (Photo/Hong Kong International Airport)
The Hong Kong Special Administrative Region (HKSAR) is now accelerating the application of 5G technologies to build a more intelligent airport, as part of the region's ambition to create a smart city.
The Hong Kong International Airport is preparing for the construction of 5G base stations to build a 5G network.
The airport has increased the number of areas covered by a high-speed Wi-Fi network from 15 to 30. The network speed could reach 400 megabits per second. With the 5G network coming soon, the airport will provide a high-quality network experience for passengers.
The airport has introduced a facial-recognition system launched by mobile payment giant Alipay at the duty-free store. It has applied a real-time detection system that can automatically identify and remove foreign objects on runways. A full runway check takes just 2 minutes, with an accuracy rating of 95 percent.
Last year, the airport's annual passenger and freight transportation volume reached a record high. The airport was recognized as Global Airport of the Year by Air Transport World, a magazine focused on the global air transportation industry.
Airport authorities are determined to adopt advanced technologies to manage the airport more efficiently and bring convenience to passengers, said an official with the HKSAR transportation bureau.
The airport is currently testing unmanned cargo and baggage cars. Once applied, the innovation will significantly improve transportation efficiency.