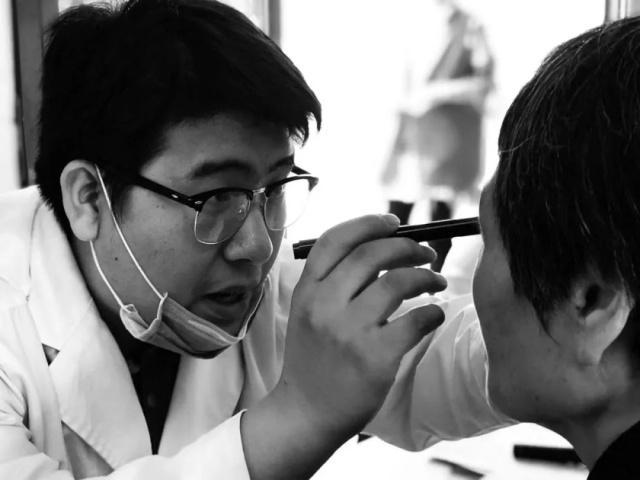 Wang Hui (Photo/Beijing Evening News)
Wang Hui, a 32-year-old eye doctor at Beijing Tongren Hospital, passed away in the early hours of June 30. His family decided to donate his corneas as his last good deed to his beloved career and patients.
At around 10 p.m. on Saturday night, Lu Hai, deputy director of the ophthalmology department in Beijing Tongren Hospital, got a phone call from a colleague and learned that Wang had been sent to the emergency room in Beijing Chaoyang Hospital. Lu hurried there with his wife.
When they arrived, some colleagues were already there. The medics were doing their best to save Wang's life in the emergency room. Wang's parents were racing to Beijing from their hometown in Tianjin, and his wife was still in a state of shock.
According to doctors, Wang had a sudden cardiac arrest at his home that night, after suffering from a fever for six days.
In the early hours of Sunday morning, Wang's parents arrived at the hospital. Unfortunately, after attempts to save his life for 3 hours, Wang passed away.
When the doctors put a white cloth over Wang's body, Lu couldn't believe it. "I'd rather believe that he just fell asleep forever," said Lu.
All Wang's coworkers in the ophthalmology department were distraught at the sudden loss of their colleague. Lu Hai said that Wang was hard-working, passionate and optimistic. He was named one of China's Top Ten Resident Doctors by the Chinese Medical Doctor Association and was an outstanding doctor in his hospital.
"Wang was a humorous and eloquent person," said Ma Xiaoli, a doctor in Beijing Tongren Hospital, who once took part in a popular science competition with Wang.
After Wang's death, his wife decided to donate his corneas. His wife, who is also a doctor, believes that as an eye doctor, donating his corneas would be his last commitment to his patients.
Before the doctors took Wang's corneas, Lu Hai said goodbye to Wang and thanked him for the joyfulness he brought to those around him. Lu promised Wang's mother that they would find the most skilled doctor to do the transplant so that Wang's corneas would be put to good use and help another person.
Wang Hui's corneas are now stored in the cornea bank in Tongren Hospital and will be transplanted to another patient when they are needed.