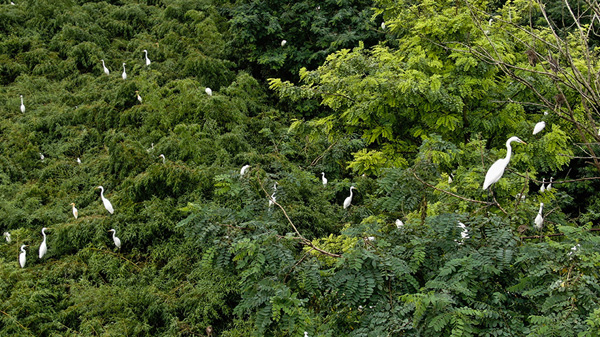 (Photo/Xinhua)
The Migratory Bird Sanctuaries along the coast of the Yellow Sea-Bohai Gulf (Phase I) in Yancheng, east China's Jiangsu province, were inscribed on the World Heritage List as a natural site at the just-concluded 43rd session of the UNESCO World Heritage Committee.
With a total area of 186,400 hectares, the Yellow Sea wet land is home to 680 vertebrate species, including 400 species of birds and 200 species of fish, amphibians and reptiles. It is also an important migration station along the East Asian-Australasian Flyway.
From 1983 the wet land was protected as a provincial nature reserve. Since then, people in the reserve have tried to protect the natural habitat of migrant birds.
Lyu Shicheng, a 59-year-old researcher, began working in the nature reserve since 1984. Lyu and his colleagues have researched for decades to domesticate, raise and multiply red-crowned cranes in the reserve and brought about many breakthroughs in these fields.
The land was upgraded as a national nature reserve in 1992 and was later recognized as an essential wet land globally.
The Tiaozini area wasn't included into the Yellow Sea wet land until 2018. Before that, the area was developed for ecological breeding. In 2018, the Yancheng government hauled back the exploitation to better conserve the natural habitat for migrant birds.
Lei Guangchun, dean of the School of Nature Conservation, Beijing Forestry University, said that the inscription of the wet land on the World Heritage List indicates that Yancheng has done a great job in protecting the wet land.
Being listed as a World Heritage Site not only helps protect the wet land, but also facilitates industrial transformation, enabling human beings to live in harmony with nature, said Wu Qijiang, director of Yancheng heritage application office.