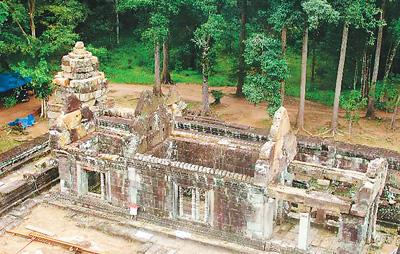 A hall of the Ta Keo temple after restoration (Photo/Chinese Academy of Cultural Heritage)
China has achieved some results in helping foreign countries restore cultural relics and has gradually gained recognition in the international community.
China has helped restore ruined temples in the complex of Angkor since 1998 by renovating the Chau Say Tevoda temple and the Ta Keo temple.
Chinese experts began to renovate the Chau Say Tevoda temple in 2000. Back then, their capabilities to complete the restorations were doubted by their European counterparts, who thought the Chinese lacked experience in restoring stone-featured buildings as ancient Chinese buildings are mostly wooden structures.
In 2008, the Chinese experts finished the task by restoring the temple to its original appearance and style. "The project won high praise from the Cambodian government, international organizations and international cultural relics restoration institutions," said Chai Xiaoming, president of the Chinese Academy of Cultural Heritage.
The Ta Keo temple is the grandest mountain temple of the Angkor site and a representative building of the 11th century. The Chinese team not only restored the Ta Keo temple based on the international restoration guidelines and previous experience, but also trained a group of relics preservation technicians for Cambodia.
Some experts commented that the Ta Keo project marked that China has gradually become one of the forerunners in the preservation of Angkor relics.
China has contributed a lot to the protection and development of Angkor heritage, which greatly enhanced the country's international reputation and influence, said an official with the committee in charge of coordinating the restoration of the Angkor site.
The Angkor protection was just a beginning. According to statistics from the National Cultural Heritage Administration, China has carried out eight cultural relics preservation projects in six countries by the end of 2018.
China has worked with Uzbekistan and Nepal to restore historical relics in these countries. Chinese experts were also invited to discuss the restoration of the Notre Dame de Paris after a fire ravaged the cathedral in April.
The international community needs China's participation to protect cultural relics, which indicates that the country's efforts to preserve cultural relics have been recognized, said Chai, adding that as an ancient civilization hosting numerous antiques, China could set an example for the world in cultural relics protection.